How to backup Outlook emails by exporting
There may be different situations when you might want to back up Outlook mails – for example, when you are moving to another computer or restoring your Outlook data after a crash. In the second case, having a healthy Outlook backup can significantly alleviate the pain, so it's a wise strategy to back-up your Outlook emails once in a while, especially if you are using email for work.
The most safe and reliable way to make an Outlook backup is to let Microsoft Outlook export a .pst file for you automatically. Apart from emails, this will also save contacts, calendars, tasks, and notes.
How to backup Outlook 2013 and Outlook 2016
To backup emails in Outlook 2013 and 2016, perform the following steps.
Open your Outlook, and click File > Open & Export > Import/Export.

The Import and Export Wizard will start up, you select Export to a file, and click Next.

Select Outlook Data File (.pst), and click Next.

Select the email account that you want to back up, and make sure the Include subfolders box is selected. This will export the contents of all folders, including mail folders (Inbox, Outbox, Drafts, etc.), Contacts, Calendar, Tasks, Notes, and Journal.Or, you can select a specific folder to export, say Inbox. It's not possible to select multiple folders, so if you want to back up a few folders, you will have to repeat the process for each one individually.

The wizard will suggest saving a copy of your .pst file to the default location:
C:\Users\\Documents\Outlook Files\backup.pstIf you have no objections, simply click Finish.

To save your Outlook backup to another place, click the Browse button, select the desired location, and click OK.

If you are exporting to an existing .pst file, choose the desired option for duplicate items. The default Replace duplicates with items exported works fine in most cases.


Note. If you've exported your Outlook data before, the previous folder and file name will appear. To prevent overwriting the previous backup, be sure to type a different file name before clicking OK.

If you are creating a new .pst file, Outlook will suggest protecting it with password, which does make sense if your Outlook items contain sensitive information, and you want to ensure that no one but you can access them. In this case, enter and confirm a password, and then click OK. If you don't want to password protect the backup, leave both fields empty, and click OK.

When exporting to an existing .pst file that is password protected, type the password that you previously used.
When exporting to an existing non-protected .pst file, Outlook will begin the export process immediately without showing the password dialog box.
You are finished! Just keep in mind that exporting a big .pst file may take a while, and the progress bar will stay on the screen until the backup process is completed. So, please be patient 🙂
How to backup Outlook 2010 emails
To make an Outlook 2010 backup, go to the File tab, and click Options > Advanced > Export: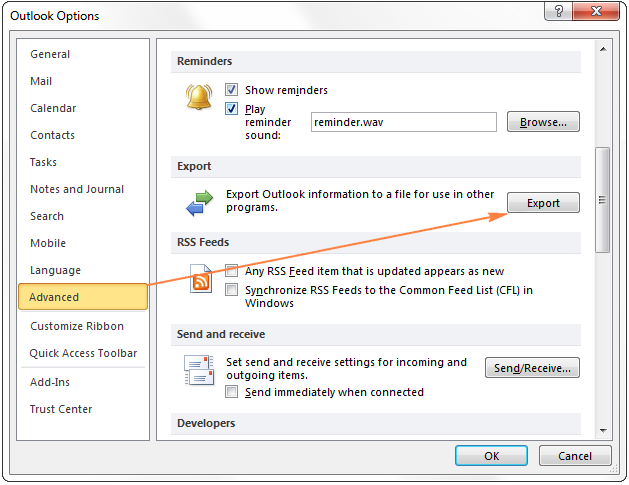 This will start the Import and Export Wizard, and you perform steps 2 – 6 described above.